About the Scottsdale Area Chamber of Commerce Ambassadors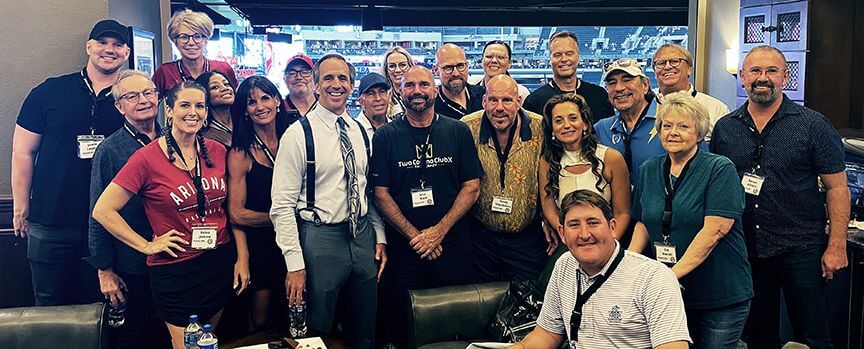 Ambassadors serve as stewards of the Chamber, assist in recruiting and welcoming new members and provide guidance in the planning and execution of specific networking activities. Our Ambassadors also play a crucial role in supporting our community outreach efforts. Available at all membership levels.
Benefits of being an Ambassador
Ability to wear the Scottsdale Area Chamber of Commerce Ambassador name badge
Greater visibility for your business
Development of business contacts through relationships established as a Chamber Ambassador
Development of relationships with other Ambassadors
Recognition of Ambassadors at events, in the Chamber"s newsletter, and on the Chamber's website when applicable
Opportunity to be featured as the Chambers "Ambassador of the Month"
Keeps you informed about what is going on in the business community
Gives you leadership opportunities with the Chamber and community
Online exposure & contact via our Ambassador Program page
Receive new member listings every month for contact. These listings will be divided throughout the ambassadors at each meeting.
Exclusive Ambassador Chamber training classes
Exclusive Ambassador events

Quarterly Happy Hour
Ambassador meetings
Process of achieving Ambassador Status
Must be a Scottsdale Area Chamber of Commerce member in good standing for 6 months or more
Must have a good attendance record

2 Networking events a month not including leads groups
Must not have more than 2 non excused absences within the past 90 days

Prospective members must submit their application form (below) with letter of approval from employer (if necessary) to the Chamber office or email it to Info@scottsdalechamber.com
If application is approved, an email or phone call will follow to schedule an interview date
At the Ambassador training, you will be provided with guidelines, and other pertinent information
Ambassador's company/organization must maintain membership within the Scottsdale Area Chamber of Commerce
New Ambassadors are placed on a 90 day probation after which time the leadership committee will review the overall performance
Prospective members may attend the Ambassadors meetings two times as a visitor before joining as a member
All Ambassadors are subject to being counseled or dropped at the discretion of the leadership committee and/or the Chamber staff
Are you interested in becoming an Ambassador?
Drop us a line today for a free quote!
Ambassador Committee Leadership