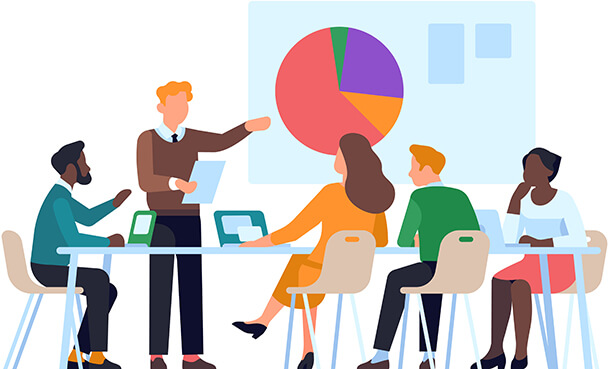 Highlights from Member Orientation
We gave you a lot of information at Orientation, here are the details, the contacts, and the how-to's to help make your membership a success!
Tina Miller, Business Development Director
480-355-2714
Mike Binder, Marketing & Communications Manager
480-355-2700
Katie Newbery, Office Administrative Manager
480-355-2707
knewbery@scottsdalechamber.com
Tom Keal, Director of Finance
480-355-2713
The Chamber is an active member of the East Valley Chambers of Commerce Alliance, a consortium of seven chambers in the East Valley, representing more than 5,000 businesses. The EVCCA is the largest business lobbying group in the state of Arizona and is professionally represented at the State Capitol by the Dorn Policy Group.
The Chamber is also actively engaged with Arizona Chamber Executives, The Association of Chamber of COmmerce Executives, the U.S. Chamber of Commerce, and the Western Association of Chamber Executives.
CLICK HERE to learn more.

At the top of the Chamber page, select Member Resources, then Member Login. Use your Username and Password to login. Contact Hannah Cole if you have any issues logging in.
Once logged in, it's important that you update your personal information and your company information.
Each month we see about 3000 visitors at the Chamber website. The number one place people go is our event calendar, and the number two place is our member directory. These are people looking to do business with you, our members. Make sure you fill out all your information and include a compelling description of your business so that people will click through to your website and you can do business with them.
Look up your business on our Member Directory. Is your business description as good as it can be? Are your social media channels listed? Your hours of operation? Complete as much as you can and make that sale!
When you register for an event, use the email you provided to the Chamber.
If you have any difficulties signing up for an event, contact Hannah Cole.
Once registered, you will receive important event information and updates prior to the event. Things like parking options, location maps, and whether the event will be inside or outside. Some events have limited capacity so registering early is important.
If you've registered and learn that you will not be able to attend, email Stephanie or Sara and let them know. Many events reach capacity early and people are on a waiting list. Your absence is their admission. It also allows us to give the host an accurate head count for food and amenities.
37th Annual Sterling Awards
November 9, 2023 @ Scottsdale Performing Arts Center
Recognizes the people and organizations who have demonstrated excellence, innovation, and community stewardship.
Award recipients are celebrated during the Sterling Awards in the four business categories: micro, small, big & non-profit.
State of the City Address
January 25, 2024 @ Fairmont Scottsdale Princess Resort
Scottsdale Mayor David Ortega discusses successes and accomplishments from 2023 and discusses challenges and areas of focus for 2024.
13th Annual Scottsdale Chamber Open Golf Tournament
March 4, 2024 @ Ancala Country Club
One of our biggest events –Sold out the last 3 years in a row w/ 144 players!
History Hall of Fame 
May 18, 2024 @ The Scottsdale Resort
Recognizes and honors the people and organizations who have made significant contributions to Scottsdale making it what it is today.
Benefits of Sponsoring and Attending a Signature Event
Generate brand awareness and expand your reach with a sponsorship
Connect with an audience that would not typically attend traditional networking events
Establish credibility and trust for your brand within your target demographic
Expand your reach and visibility within the local community
Leadership/Volunteer Opportunities
Business Exposure Opportunities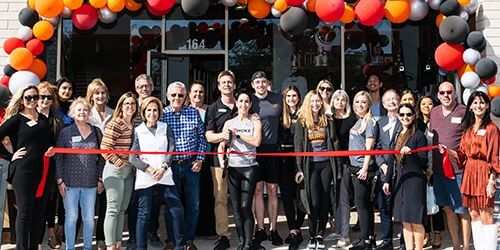 Ribbon Cutting Ceremony
Member Spotlight
Television Promotion
Committee Membership
Posting on the Chamber Website
Members can post news, events, specials and more to our Member Marketplace. Items posted appear on our Member Marketplace page, and are also sent each monday in our Member Events email to over 3,000 members and subscribers.
Members can also post job openings to our Member Jobs page which are also included in our Member Events email.
Members can post press releases to our Member Press Releases page, which are also included in our Member Events email.
These posting also create individual URLs that you can use in your social media and emails.
Detailed step-by-step instructions on how to post each of the above can be found on our How Members Can Post page.
Follow the Scottsdale Area Chamber of Commerce: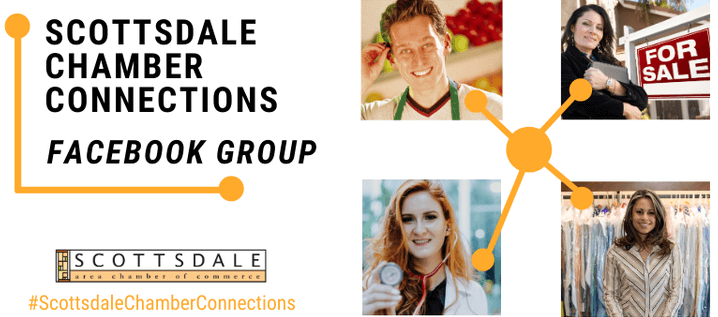 Follow Scottsdale Rising Young Professionals: